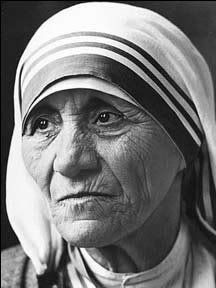 "We begin our day by trying to see Christ through the Eucharistic bread. Throughout the day we keep in touch with him under the appearances of the shattered bodies of our poor. In this way our work becomes a prayer, as we accomplish it with Jesus, for Jesus, and toward Jesus.
The poor are our prayer. They carry God in themselves. Prayer is in all things, in all gestures."--Blessed Teresa of Calcutta
Where are the poor around us? Do the "poor" live within our own homes, perhaps someone needing a little extra love? Are the "poor" in our communities? Are the "poor" our elderly relatives wishing a visit from us? Are the "poor" our unhappy co-workers in need of Christ's love through our time we can give them and our listening ears? Where are our poor? Are we seeking to console them this day? Let's remember that Blessed Teresa told us the there is "Calcutta all over the world for those who have eyes to see."