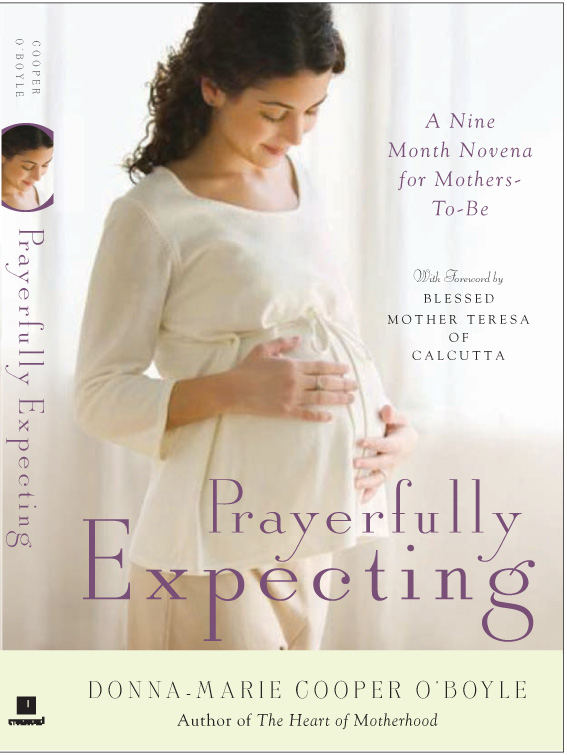 NEW AND EXCITING NEWS! Here is the NEW cover image of my book. Although we will have to wait a bit longer, Prayerfully Expecting will be even more beautiful. The publisher decided to make a few appearance changes to my book. We can expect a May 2007 release. You may still pre-order this book and I will send it to you as soon as I get them.
This unique pregnancy prayer journal book which is published by the Crossroad Publishing Company bears a foreword by Blessed Teresa of Calcutta whom I knew personally.
My artist daughter, Chaldea illustrated this book which I wrote while I was on complete bedrest during a high risk pregnancy for her little sister, Mary-Catherine. During that time, I was blessed with Blessed Mother Teresa's prayers for my baby and me. I feel that God graced me with much inspiration during that pregnancy and placed the words on my heart, compelling me to write them down to be shared with others. I shared my manuscript with Mother Teresa. She read it and had her spiritual director go over it, and she then gifted me with a foreword for all of you! She told me that she would pray that it does "much good." I wish to pass on these many blessings to expectant mothers around the world so that they may discover and experience the holiness found within their pregnancy as they are helped to see their pregnancy as a prayerful retreat with the Lord while their baby grows within them.
Book Description
Your feet are swollen, your hormones are a mess, and you still crave too much ice cream. For every mother-to-be, the nine months of pregnancy can be demanding. Competing with the joy of anticipation is the frustration of bodily pain and limitation. In this intimate book, Donna Marie Cooper O'Boyle invites pregnant women everywhere to see their pregnancy not as a burden but as a living prayer to God. Connecting the nine months of pregnancy with the nine-part novena prayer tradition known to Catholics everywhere, Donna Marie shows how each month of pregnancy connects the mother to the great Catholic saints and teachers. Alongside the devotional and the catechetical helps are pointed references to the development of the child in the womb as the months of pregnancy progress.
You may pre-order your autographed copy through this website (and may receive it prior to the release date), through Crossroad Publishing Company or
Amazon.com
.
To pre-order through this website, please use the PAY PAL by going to the link in the left column, "Donna-Marie's Store" or send a check or money order for $21.50 which includes shipping and handling to: Donna Cooper O'Boyle, PO Box 773, New Milford, CT 06776. Please include the name you would like inscribed in the book.